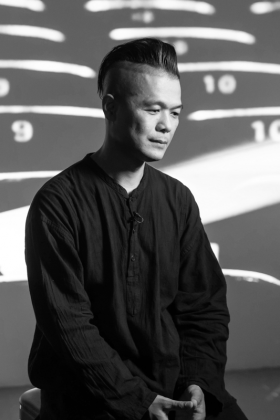 Tsang Man-tung is an accomplished artist who works in the fields of theatre, visual arts, music and arts education. A renowned scenographer with over 20 years of experience, he has received numerous local and international awards on scenography including Best Set Design, Best Costume Design as well as Best Make-up and Image Design at the Hong Kong Drama Awards; the Award for Best Artist (Drama) at the Hong Kong Arts Development Awards 2008; and Outstanding Set Design for Dance three times at the Hong Kong Dance Awards. In 2010, he visited the Yale School of Drama as a special research fellow on an Asian Cultural Council fellowship from 2009. He was awarded under the Secretary for Home Affairs' Commendation Scheme in 2015 for his contribution to the development of arts and culture. In 2017, he won the Silver Prize for Set Design at World Stage Design 2017.
Renowned for his conceptual and minimalist style, his ritual theatre works include The Heart Sutra (2017), Vipassana – Silent Walk (2017), Silence in the Woods (2019) and The Light of Metempsychosis (2021).
Tsang is also a performer of Himalayan Singing Bowls and has performed publicly in Hong Kong, mainland China, Taiwan and Malaysia. He released his first singing bowl album The Seed of Sound: Singing Bowl in 2018. In 2020, he published his book about singing bowl The Bowl of Enlightenment.